Monday, April 02, 2007
Opening Day 2007: Hour 2
11:00
--
Chicago Cubs at Cincinnati Reds (ESPN 2, WGN, and FSN Ohio)L.A. Dodgers at Milwaukee Brewers (FSN Prime Ticket)Cleveland Indians at Chicago White Sox (Comcast SportsNet Chicago)
11:01
-- Vin Scully! "And a pleasant good day to you wherever you may be." Now it really
is
baseball season.
11:13
-- Hey, a new family movie starring Ice Cube! Looks about as good as the Devil Rays.
11:15
-- There sure are a lot of car commercials on YES. But I thought no one in New York drove.
11:19
-- The Blue Jays caps have a "T" instead of a "J," I notice. Too bad, because I liked the "J." Maybe that's still the home cap.
11:21
-- Two female fans in the upper deck of Comerica Park are interviewed. One of them refers to it as "Tiger Stadium" and is quickly corrected by the interviewer.
11:24
-- Since the Reds are wearing their new mustachioed Mr. Redlegs patches, perhaps they should all have grown mustaches to match.
11:25
-- The Superstation WGN Scoreboard graphic has a problem, I say.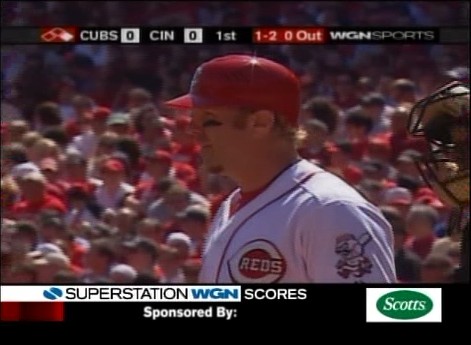 I contend that "Sponsored By:" should either be right-justified so it's against the sponsor graphic, or that graphic should say "Sponsored by Scotts" (which would work fine even with the graphic there on the right).
11:29
-- C.C. Sabathia looks a little large.
11:31
-- The White Sox announcers start talking about how one should not judge a book by its cover when it comes to C.C. Sabathia. I guess I've been properly chastised! However, Darin Erstad promptly hit a 2-run homer off him to pull the White Sox to within 3 runs in the bottom of the 1st.
11:37
-- Chicago mayor Richard M. Daley is in the stands at U.S. Cellular Field, but does not have to be interviewed by someone with a radio mike.
11:39
-- The Yankees infield has been a bit error-prone today, which has helped the Devil Rays tie.
11:40
-- First appearance of Joe Maddon, coming out for an explanation from the umpire about a player being called out on a bunt that hits him in fair territory.
11:42
-- Rocco Baldelli hits an RBI single, and the Devil Rays are leading.
11:44
-- Amtrak -- the Washington Nationals of transportation!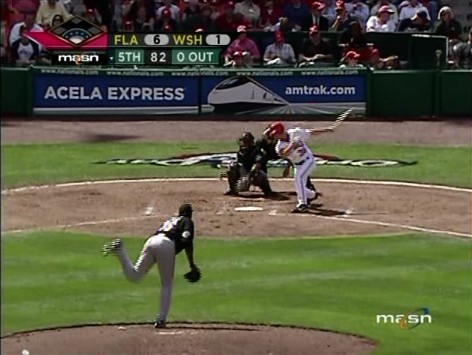 11:49
-- Hey, Dr. Cox from "Scrubs" is in that movie with Ice Cube. Well,
John C. McGinley
, I mean. I assume he's not playing the same character he plays on "Scrubs." Not to be confused with
John C. Reilly
, who is not to be confused with
Andy Richter
, who is
not to be confused with John Candy
.
11:54
-- Comcast SportsNet's "Scores on the Fours" should perhaps be renamed "Scores on Most But Not All of the Fours."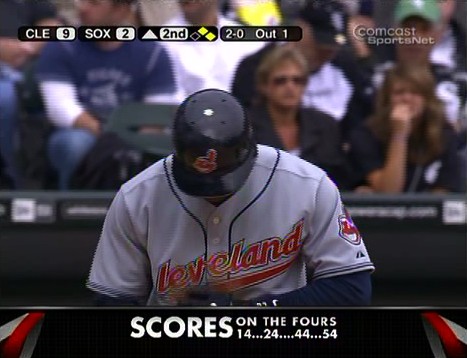 Labels: amtrak, brewers, c.c. sabathia, cubs, darin erstad, devil rays, dodgers, indians, joe maddon, nationals, reds, richard m. daley, rocco baldelli, vin scully, white sox, yankees