Thursday, June 29, 2006
Their other fan in Los Angeles is a quiz show writer
About a month ago,
"Jeopardy!" brought us this nugget of information
, and then on Monday, as the $600 clue in a category called We're No Angels, this came up...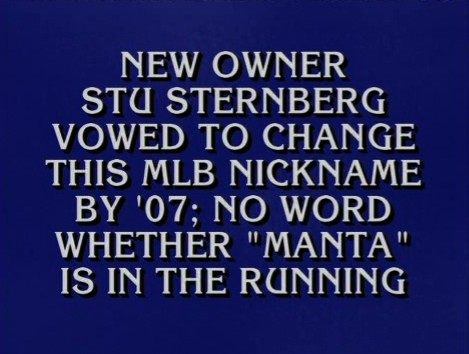 Then, on the Thursday show, the $2,000 clue in Musical Instruments was the following. Not baseball-related, but I know Levi will enjoy it...
(Monday's clue was correctly answered -- or, you know, correctly
questioned.
The three contestants didn't even attempt the Thursday one.)
Labels: devil rays, feels so good, jeopardy, stuart sternberg
Friday, June 23, 2006
Someone else has been reading lately
Sunday, June 18, 2006
In favor of stirrup socks
Thursday, June 15, 2006
Cool Flickr baseball photos every Thursday!
Thursday, June 08, 2006
Friday, June 02, 2006
Dropped third strikes
Thursday, June 01, 2006
Block that baseball metaphor!