Thursday, June 29, 2006
Their other fan in Los Angeles is a quiz show writer
About a month ago,
"Jeopardy!" brought us this nugget of information
, and then on Monday, as the $600 clue in a category called We're No Angels, this came up...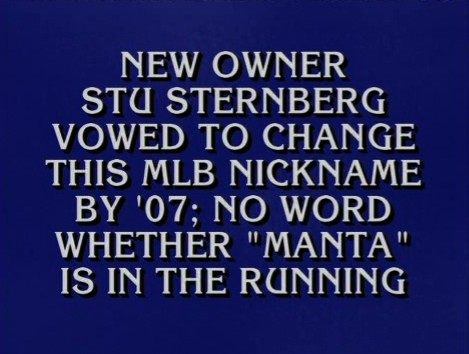 Then, on the Thursday show, the $2,000 clue in Musical Instruments was the following. Not baseball-related, but I know Levi will enjoy it...
(Monday's clue was correctly answered -- or, you know, correctly
questioned.
The three contestants didn't even attempt the Thursday one.)
Labels: devil rays, feels so good, jeopardy, stuart sternberg
Comments:
You're telling me there are three non-Chuck Mangione fans in the world? What a sad state of affairs.
Post a Comment
<< Home