Thursday, September 30, 2004
Ride 'em, Cowboy!
Wednesday, September 29, 2004
Happy baseball-related birthday to me
Up in the booth, Vin Scully frowns
More dramatic than an episode of "Clubhouse"
In my last entry, I said something about drama in the baseball playoffs starting next week. Perhaps I should have mentioned possible drama in the games being played in this, the last week of the season.
I thought that Angels game last week was going to be my last baseball game of the season. But then my birthday happened, and I got two tickets to Tuesday night's Dodger game. I gave one of the tickets to Jason. We drove to the game separately because I usually get off work hours before he does, and I wanted to arrive early to a Dodger game for once. So I'm on my way...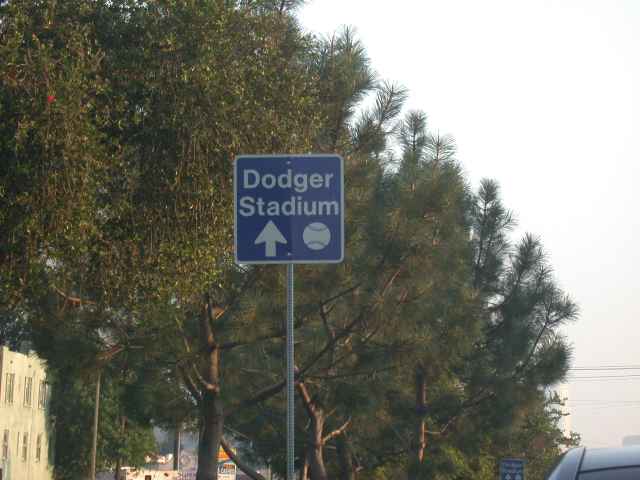 I ignored this sign (there used to be a Dodger Stadium entry gate straight down this street, but you can still get
near
the stadium this way)...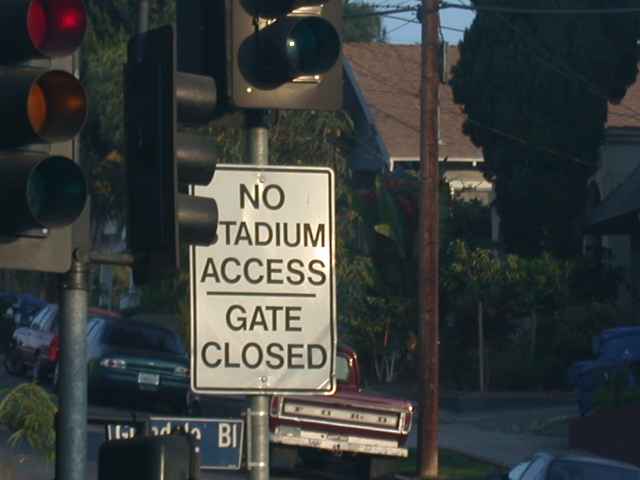 Remember where you parked at Dodger Stadium; it's on a giant baseball...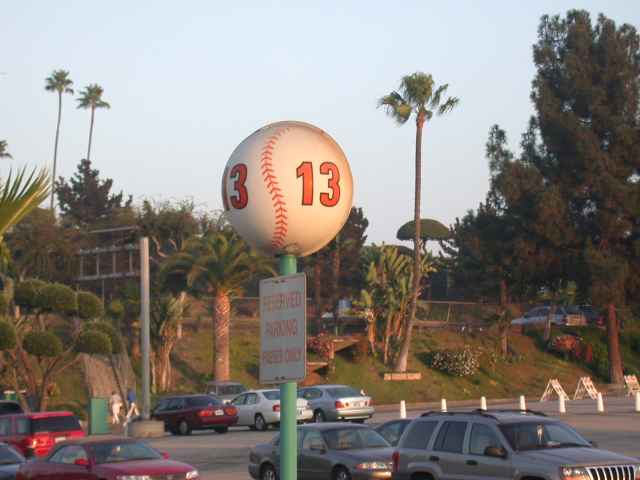 Many people over the years have ignored the crucial "no beachballs" rule on this sign...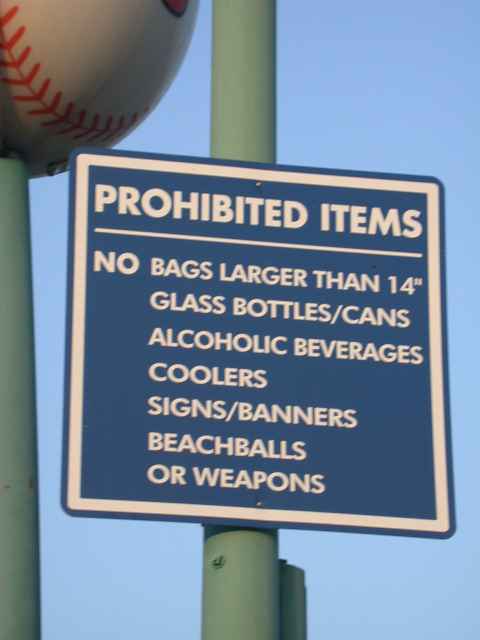 If this sign hasn't been in the parking lot since 1962, it should have been...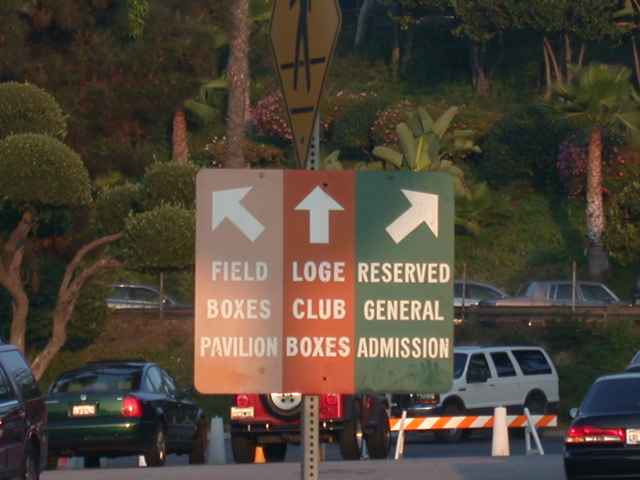 "Think blue"? Whatever you say, Mr. Sign!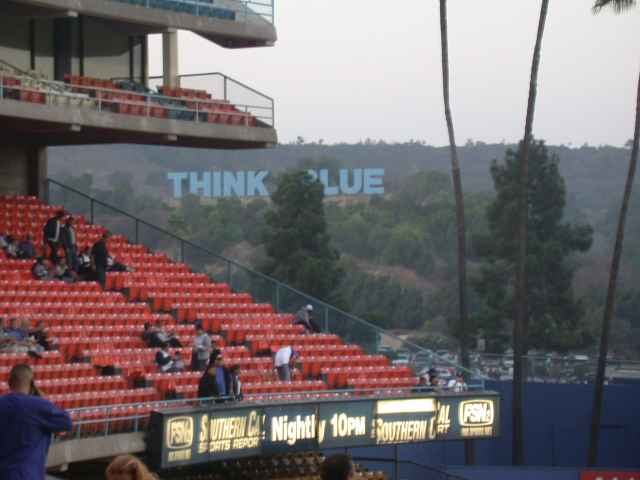 Before the game, pitcher Elmer Dessens was having his picture taken, in a bunch of different poses. For use on baseball cards, maybe?...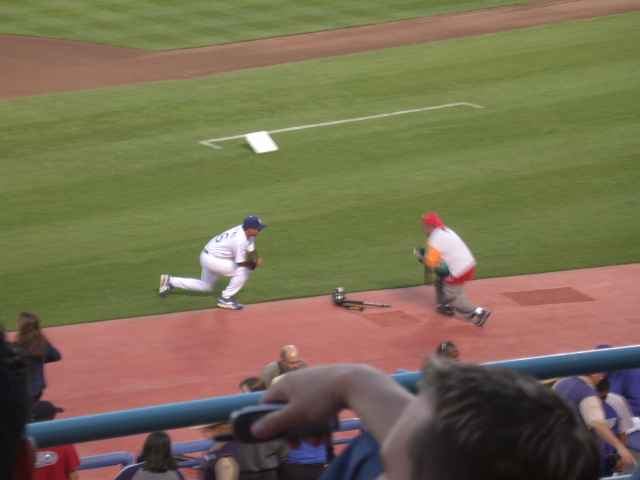 Somebody being interviewed before the game...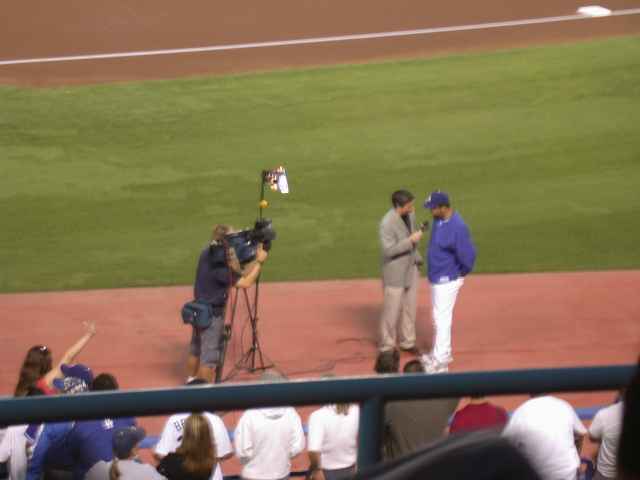 The score at the upper right is the one to keep an eye on. The Dodgers went into this game with a magic number of 4 to win the National League West, with the Giants nipping at their heels...
Why weren't there more people at a pivotal game in the last week of the season? The Dodgers kept the right-field pavilion closed...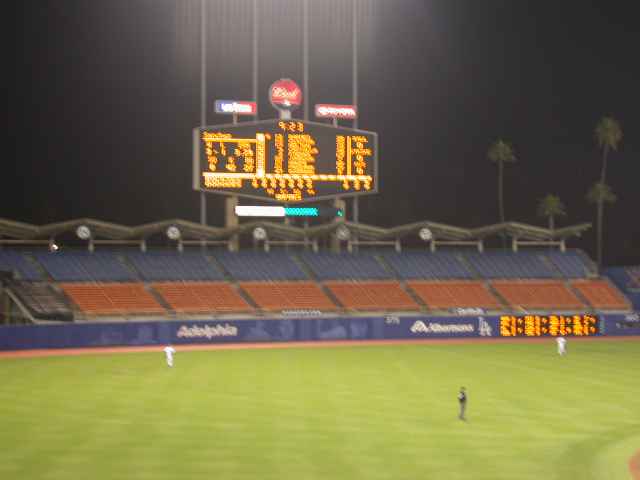 Jason noticed a (presumably coincidental) circle of people wearing white in the stands opposite us (in the middle of the below photograph)...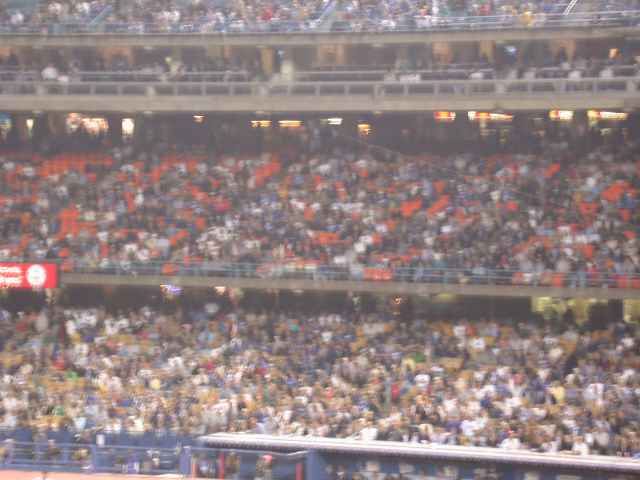 The Rockies get one early run, and then not much happens for quite a while, except for a smoggy moonrise in right field...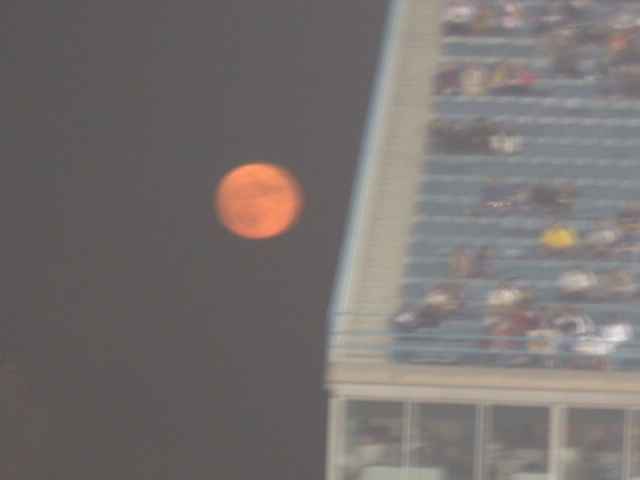 Milton Bradley was charged with a 2-run error in the eighth inning, causing the Rockies to lead 3-0. A fan threw a plastic bottle at him. Bradley didn't like this, and approached the stands. To make a long story short, here's Bradley walking off the field after being ejected, having ripped off his uniform shirt, which didn't exactly endear him to the crowd...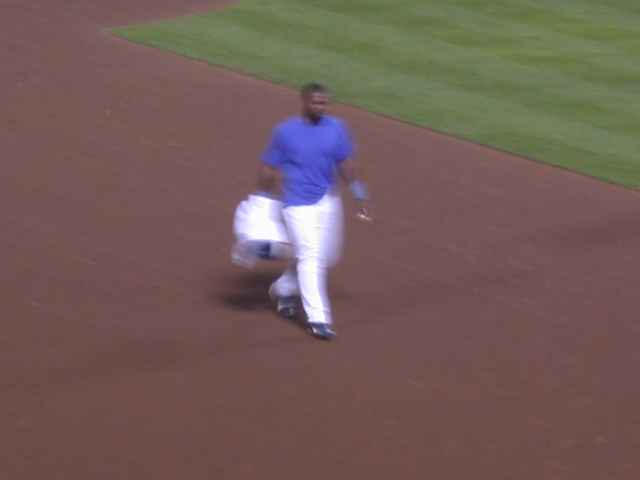 Remember Elmer Dessens from before the game? He pitched the top of the 9th, keeping the score as it was at the end of the 8th, 4-0 (also, notice that a lot of people have already left)...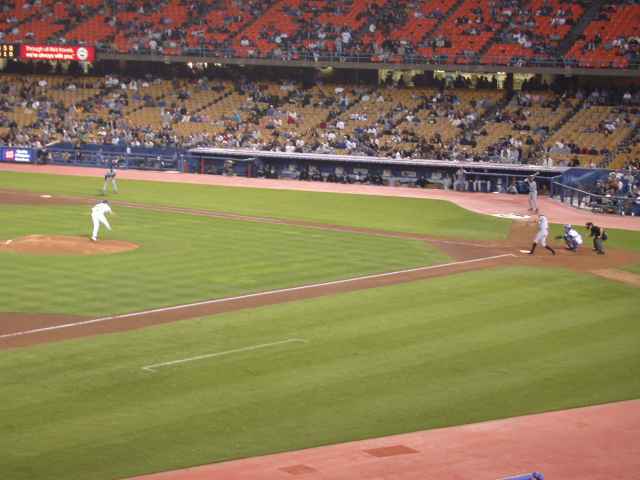 Bottom of the 9th, and Rockies pitcher Shawn Chacon walks four Dodgers in a row to make the score 4-1.
Tim Harikkala relieves him, and promptly gives up a double to Jayson Werth to make the score 4-3.
Then he gives up a single to Steve Finley. Two runs score. Dodgers celebrate...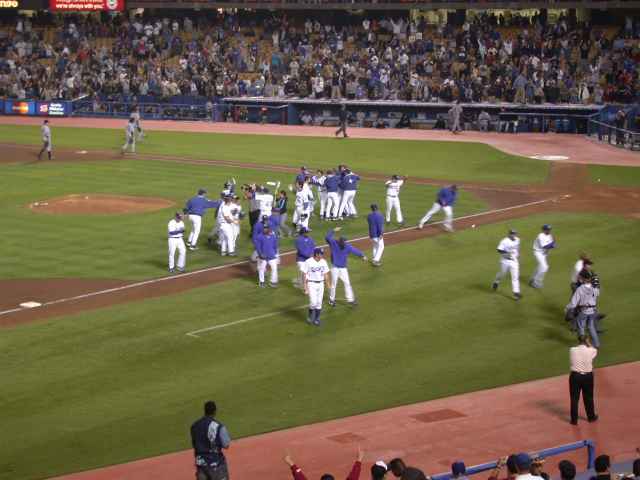 I'm not sure if I believe it, but there's the final score...
Hero Steve Finley being interviewed...
Another powerful argument for not leaving a baseball game early. The Giants also won, in less dramatic fashion, so the Dodgers' magic number is now 3. I'm very, very happy
this
turned out to be my last game of the season. (I certainly won't turn down Dodgers playoff tickets! That's
post
season.)

Original comments...
thatbob:
If the Dodgers have a post season, I hope they incorporate the good luck tradition of the Rally Ejection. Milton Bradley can take off a different article of clothing in every 8th inning in which the Dodgers are behind.
Labels: dodger stadium, dodgers, elmer dessens, game report, jason kaifesh, milton bradley, photos, rockies, steve finley
Monday, September 27, 2004
I watch baseball-related TV so you don't have to
Saturday, September 25, 2004
We do it (baseb)all for you
Thursday, September 23, 2004
Roundup
Wednesday, September 22, 2004
It's definitely not our fault
Monday, September 20, 2004
The sound of baseball
What? More baseball?
A baseball dream
Thursday, September 16, 2004
I wish I'd thought of this
Home Sweet Home
Wednesday, September 15, 2004
Related to the trip, but not baseball-related
Monday, September 13, 2004
Even more pictures
Sunday, September 12, 2004
Alternate universe version of the trip, number three
Money matters
Friday, September 10, 2004
How could I pass it up?
What were they thinking? , or, Business as Usual in Tampa Bay
Thursday, September 09, 2004
Pat Hughes, Alliterist
Tuesday, September 07, 2004
And speaking of music
Can't get enough music?
Monday, September 06, 2004
Vital statistics from the trip
Now you can see what we saw
Friday, September 03, 2004
A certain something in the air
Wednesday, September 01, 2004
The baseball-related coda
Milwaukee pictures