Monday, July 03, 2006
Only the finest in baseball-related jokes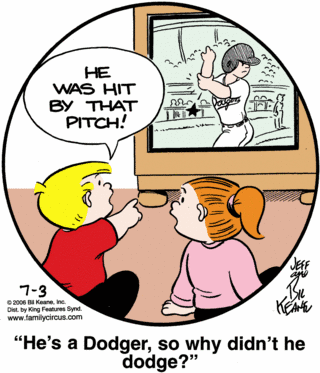 Turns out that if you have high-definition TV, the picture clarity is such that you can see pain lines and pain stars. However, it looks like it's hard to keep the colors in balance on these old-timey woodgrain-cabinet HDTVs: the blue on the Dodgers uniform looks black, and Dodger Stadium and the denizens thereof look green. Actually, with those vertical posts visible in the stands, it looks more like Fenway Park.
In other news, please note that on May 11th,
I correctly predicted that Scott Kazmir would be the Devil Rays' sole All-Star Game representative
.
Labels: all-star game, devil rays, dodger stadium, dodgers, hdtv, scott kazmir