Monday, April 17, 2006
Keeping track of ex-major leaguers on game show panels
In the 1970s, Joe Garagiola was on "To Tell the Truth" with class acts like Kitty Carlisle and Tom Poston (and served as host for one season, as seen in the film "
Catch Me If You Can
").
30 years later,
Billy Bean
has to sit next to a man wearing a bright pink jacket.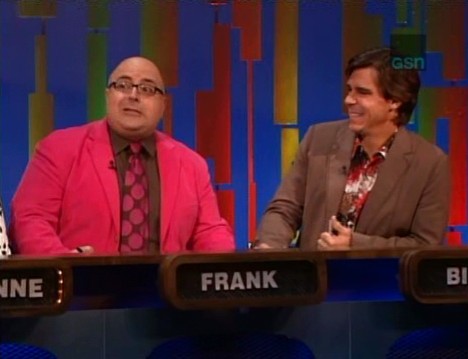 This is GSN's revival of "
I've Got a Secret
," which premiered tonight -- and which is actually pretty good.
Labels: billy bean, joe garagiola
Comments:
Hi there. I just wanted to let you know that I left you a comment in the September 2005 section for the blog concerning Saint Louis being better than Kansas City.
And I'll even provide
a link to that post, and your comment
.
Keep in mind that the main body of that post was an extended quote from Bill James, writing in late 1985, and my brief comments following
his
comments were meant to be taken as tongue-in-cheek (as are many of my comments on this blog).
Levi and I don't have enough experience with Kansas City to have formed an opinion about which city is better; I've literally only ever been to the train station
platform
and to the airport. We would definitely like to visit for a Royals game, and I would like to eat some barbecue. Levi, being a vegetarian, would like to
smell
some barbecue.
Post a Comment
<< Home