Tuesday, September 20, 2005
Cut off your Indian braids
Jason and I drove from L.A. to the greater Phoenix area after work on Friday (roughly a 6-hour drive) and went to two sporting events on Saturday. The first one is of more relevance to baseballrelated.com...
Yes, we got to see the Diamondbacks come back from a 5-1 deficit to win 6-5, largely because Tony Clark hit a home run from each side of the plate. Bank One Ballpark is nowhere near as depressing as Tropicana Field, perhaps because it has some actual windows to let sunlight in during day games, and because the home team has actually been fairly successful during their tenure in Major League Baseball. Also, there were over 20,000 people there, as opposed to under 10,000.
At least in the lower deck, there was an usher at the top of each aisle with a "Please Wait Here" sign -- great. However, when I was returning to my seat after a bathroom break (the "bottomless glass of soda" at Alice Cooperstown led to way too much Dr Pepper for my poor bladder to handle), the usher for our aisle dropped his sign and motioned me forward the instant contact was made with the ball, as opposed to, you know, making sure I wouldn't be interfering with anyone's view of the actual play.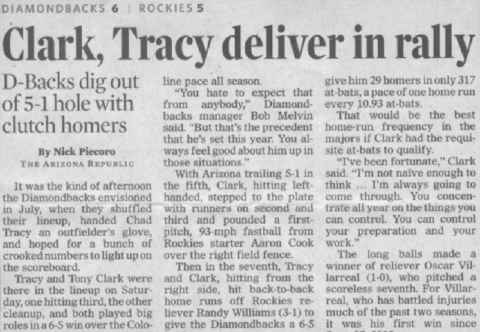 Many more pictures available on flickr.com.
As for the other sporting event Jason and I saw -- and the one we had a definite rooting interest in -- the less said about it, the better...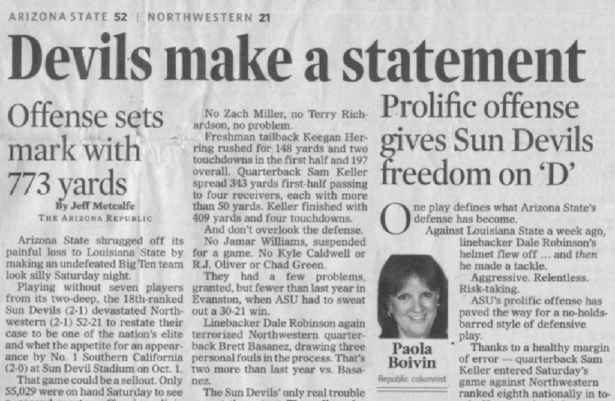 ...although I note that the
Arizona Republic
has a sports columnist named "Paola."
Labels: diamondbacks, game report, jason kaifesh, rockies